Price List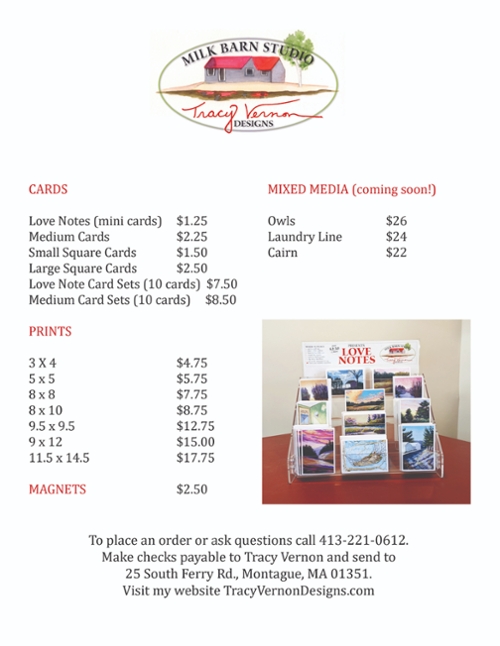 Welcome to my wholesale line. I know that my success is your success so I am featuring only my best sellars. I have more designs than what is listed here. Please feel free to call me if you don't see something you're interested in and I might very well have it. When I have a new image that I believe would sell well in your store I'll notify you.
Whether you have met my rep and seen my products in person or heard by word of mouth, please know that my goal is to make buying and selling my art reproductions fun, easy, and profitable. Here's how my wholesale line works.
Any of the rectangular images can be purchased as Love Notes (2 1/2 x 3 1/2), medium cards (3 1/2 x 5), or matted prints in 3 x 4, 8 x 10, 9 x 12, or 11.5 x 14.5.
Any of the square images can be purchased as small (3 x 3) or large ( 5 x 5) cards or matted prints in 5 x 5, 8 x 8, or 9.5 x 9.5.
Any image can be purchased as a small magnet (2 1/2 x 3 1/2 or 3 x 3). Four is the minimum order for one image or you can purchase a variety pack of a dozen.
The display unit pictured is clear acrylic measuring 11 1/2 W by 7 3/4 H. It can be mounted to a wall or be displayed on a countertop. It is easy to assemble, and the price is $35.
As this is a new addition to my website, I am currently taking orders by phone or email. I am able to process a debit or credit card purchase over the phone and I also accept checks.