2nd Annual Art Sale and Garden Tour
August 27 (rain date 8/28) 10 - 3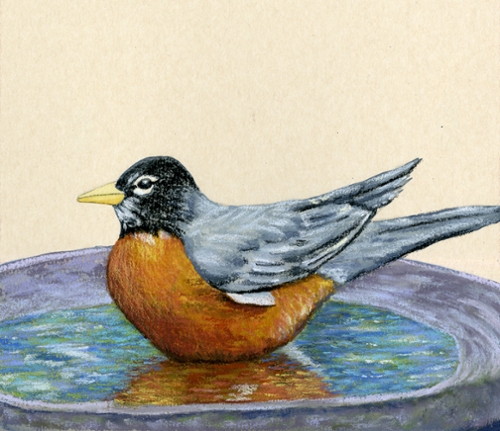 I'm excited to announce the 2nd Art Sale and Garden Tour at Milk Barn Studio on Saturday August 27. Once again it will be at our home in Montague from 10 - 3. In the case of rain or extreme heat, the event will take place on Sunday August 28. Just like last year, I will have raffles for local and international charities, as well as a treasure hunt with the prize of an original framed painting. Refreshments will be under the shade of our maple trees where last year people made new friends and caught up with old.
I'm delighted to share new paintings from the past year including the American Robin pictured here. I will also have unframed original paintings for sale that will allow the buyer to choose the frame that works best in their home. I plan on incorporating this new item into my display at Sawmill River Arts Gallery. Up until now, I've only displayed originals in frames. Displaying pieces unframed provides the opportunity to share a broader span of work that I love and am proud of.
If you are a gardener and/or a lover of gardens, this is an exceptional year for perennials. Feel free to walk around my garden beds, watch hummingbirds, gold finches, butterflies, and bees getting their fill. I painted a series of small watercolor flowers while sitting in my front garden this summer. These little gems will also be on display.
And last but not least, I have created new cards and card sets from paintings both in watercolor and pastel. I'm delighted to share a wider selection of cards and prints than I did at the event last year. And Love Notes are now available in squares!
Hope to see you on Saturday August 27th.
Posted: to General News on Sat, Jul 30, 2022
Updated: Sun, Jul 31, 2022